Golden Rose A Elegant Gifts For Your Lover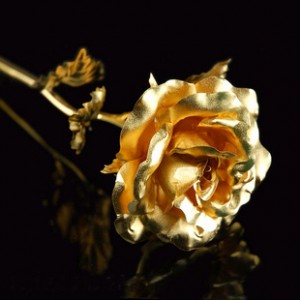 Roses are always thrilling for a wife or girlfriend to receive. These two timeless symbols of richness and beauty have been perfectly combined in the golden rose. Something women have a soft spot in their heart for. Somehow, roses are able to appeal to any woman and are able to evoke positive reactions and responses, especially when they are from a thoughtful male. This Valentine's Day make a lasting impression on your beloved by presenting this luxurious 24k Gold Rose. The lovely Golden Rose is the exceptional gift for your wife, girlfriend, mum or even your secretary! It comes in a beautiful presentation box with a certificate of authenticity.
Features:
The gold rose petals and leaves are 99.9% 24-cara gold foil, scape is gold-plated.
Flower Size: 8 cm in diameter
Approximately 25cm in length
You may also like:
Tags: Cute
Trackback from your site.